Black Lives Matter Mural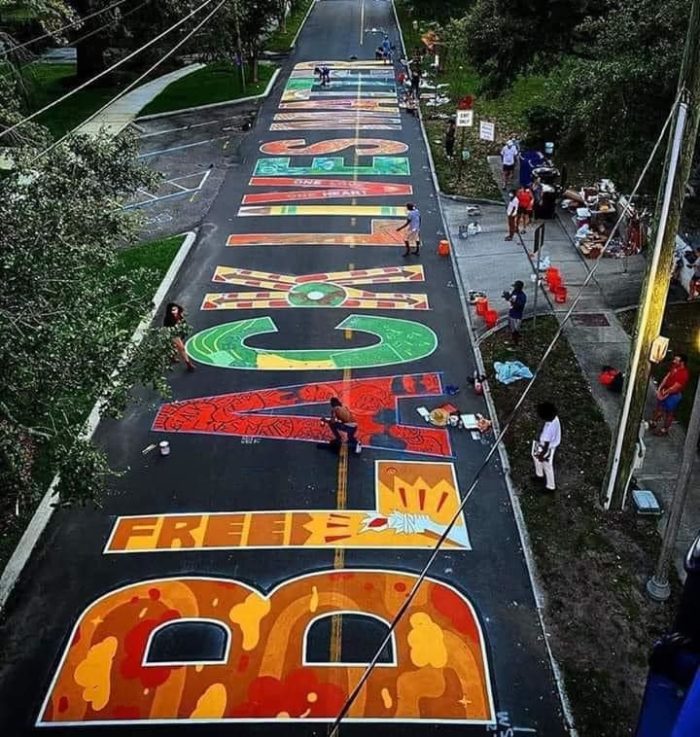 When
Currently on Display
Where
Dr. Carter G. Woodson African American Museum
Admission
Open to the Public
What
This community's first BLACK LIVES MATTER mural is the most beautiful one in the nation, and it is the welcoming mat to our most historic African American community Jordan Park, and the beautiful Dr. Carter G. Woodson African American Museum. 
T-shirts & Mural Prints
PURCHASE A T-SHIRT OR MURAL PRINT HERE
T-shirts and Black Lives Matter Mural prints are available for purchase.
Items are available for pick-up Tuesday – Friday, 12:00 pm – 5:00 pm
Color Abstractions 1989-2021 | Ken Falana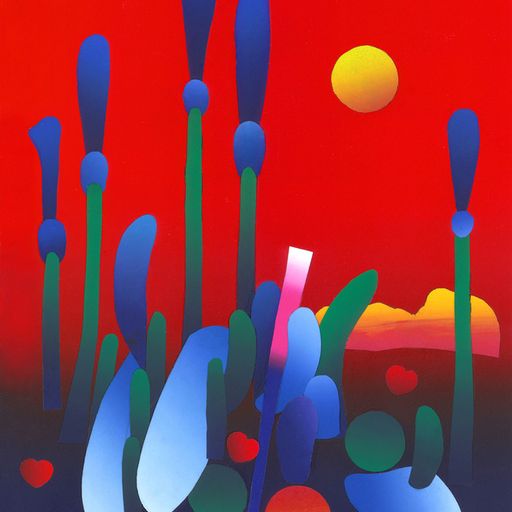 When
October 4th - December 31, 2022
Where
Woodson Museum
Admission
Free and open to the public.
What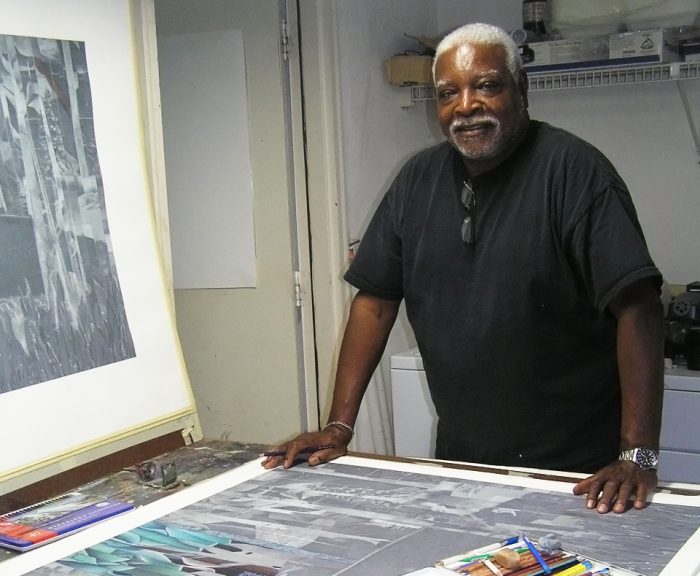 Ken Falana is a contemporary printmaker and retired art educator born and raised in Florida who began drawing in the 1950's as a child. He fondly remembers an aunt and uncle with whom he sometimes lived taking him to the Ringling Museum in Sarasota, Florida. Once there, he became enamored with classical and Renaissance nude sculpture in exhibits and began drawing them. Although his aunt and uncle where initially taken aback by his newfound obsession of drawing nude figures, they encouraged him to continue drawing.
Ken describes himself as a colorist whose strongest inspiration for his images and color are based on remembered experiences of growing up in rural Central Florida and the Gulf Coast. His works of art span over 60 years, from early works that include a series of silkscreen and collage prints that commented on the Civil Rights movement of the sixties to realistic graphite drawings. Later, Ken began combining silkscreen printing (Serigraphy) with collage and experimenting with monoprints to create boldly abstract and colorful collections of art pieces.
Over the course of his career in art and education, Ken has always emphasized the importance of craftsmanship and self-expression in his own work and the work of his students. As a result, he has developed his own visual vocabulary and an improvisational style of printmaking that he calls silkscreen construction collage. In his technique, Ken silkscreens color inks onto large sheets of paper and invents images by cutting and assembling these color sheets into dynamic abstract compositions to form large scale art pieces.
Ken's artwork can be found in many public and private collections including the Museum of the National Center for Afro-American Artists, Boston, Daytona News Journal, NCCU Art Museum, Florida A&M University, Metro-Dade County Building of Public Administration, Atlanta Life Insurance Company, St. Louis Artists Guild, and the Wisconsin Union Art Collection.
Ken retired from teaching in 2011 and can be found spending his time continuing to create new works of art, exhibiting, traveling and spending time with his family.
Now Accepting Donations for Annual Toy Drive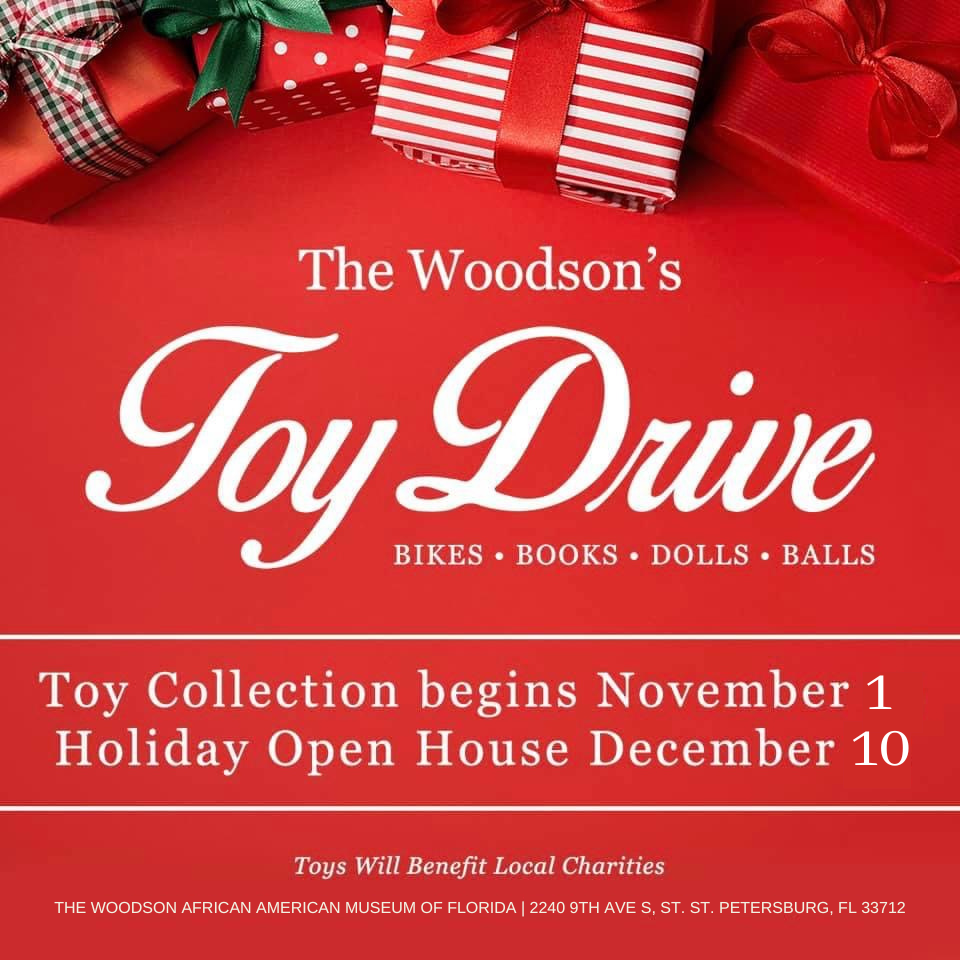 When
November 1 - December 10
Where
The Woodson African American Museum of Florida
Admission
N/A
What
Until December 10, you are able to drop off new toys at the museum during its hours that will be donated to families in the area that need holiday assistance.
Art Walk: Holiday Open House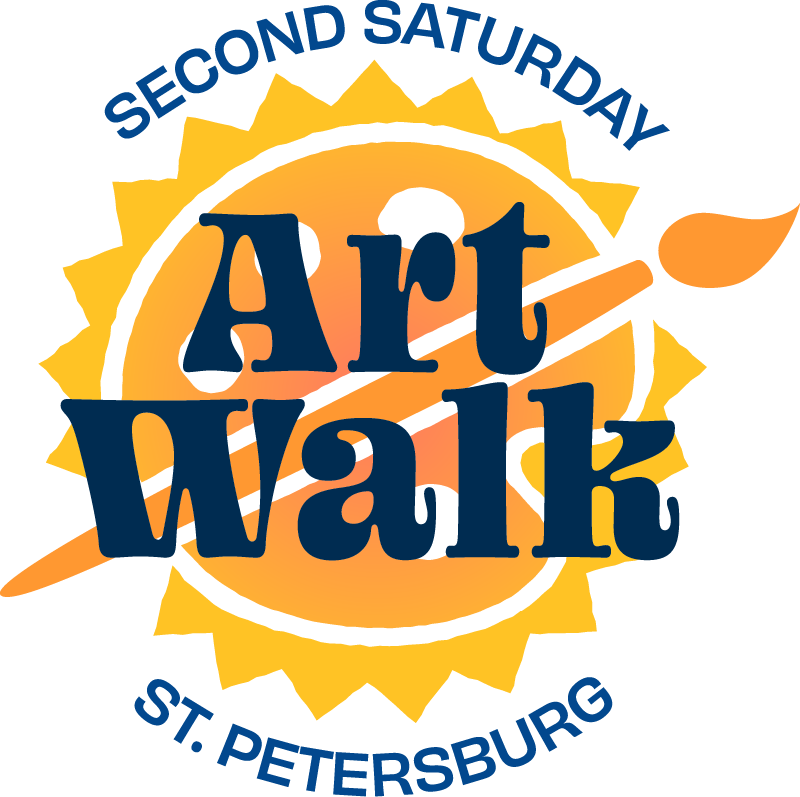 When
December 10, 2022
Where
The Woodson African American Museum of Florida
Admission
Free
What
The culmination of the Toy Drive and our Holiday Open House will be on December 10 from 5-8 PM. Take a stroll around our Legacy Garden to see our festive holiday decorations. Enjoy some Holiday Cheer, Light Refreshments, and an opportunity to meet Santa!
Book Club: Holiday Open House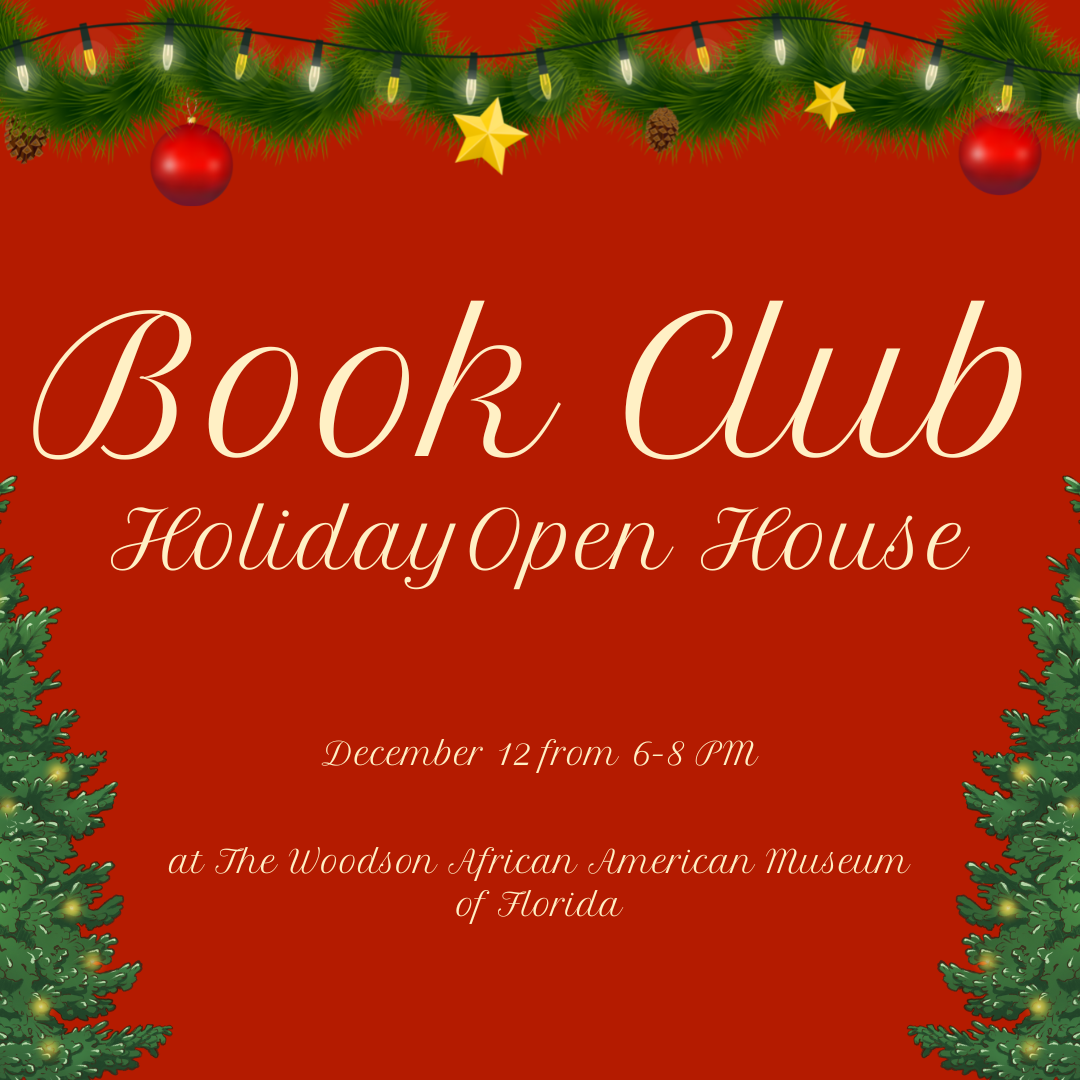 When
December 12, 2022
Where
The Woodson African American Museum of Florida
Admission
Free
What
We are having a Holiday Open House for our "Can We Talk?" Book Club. Please join us for some Holiday Cheer as we bring in the Christmas Holidays together.
To RSVP, email woodsonmuseum@gmail.com
PJs, Popcorn, and Pictures with Santa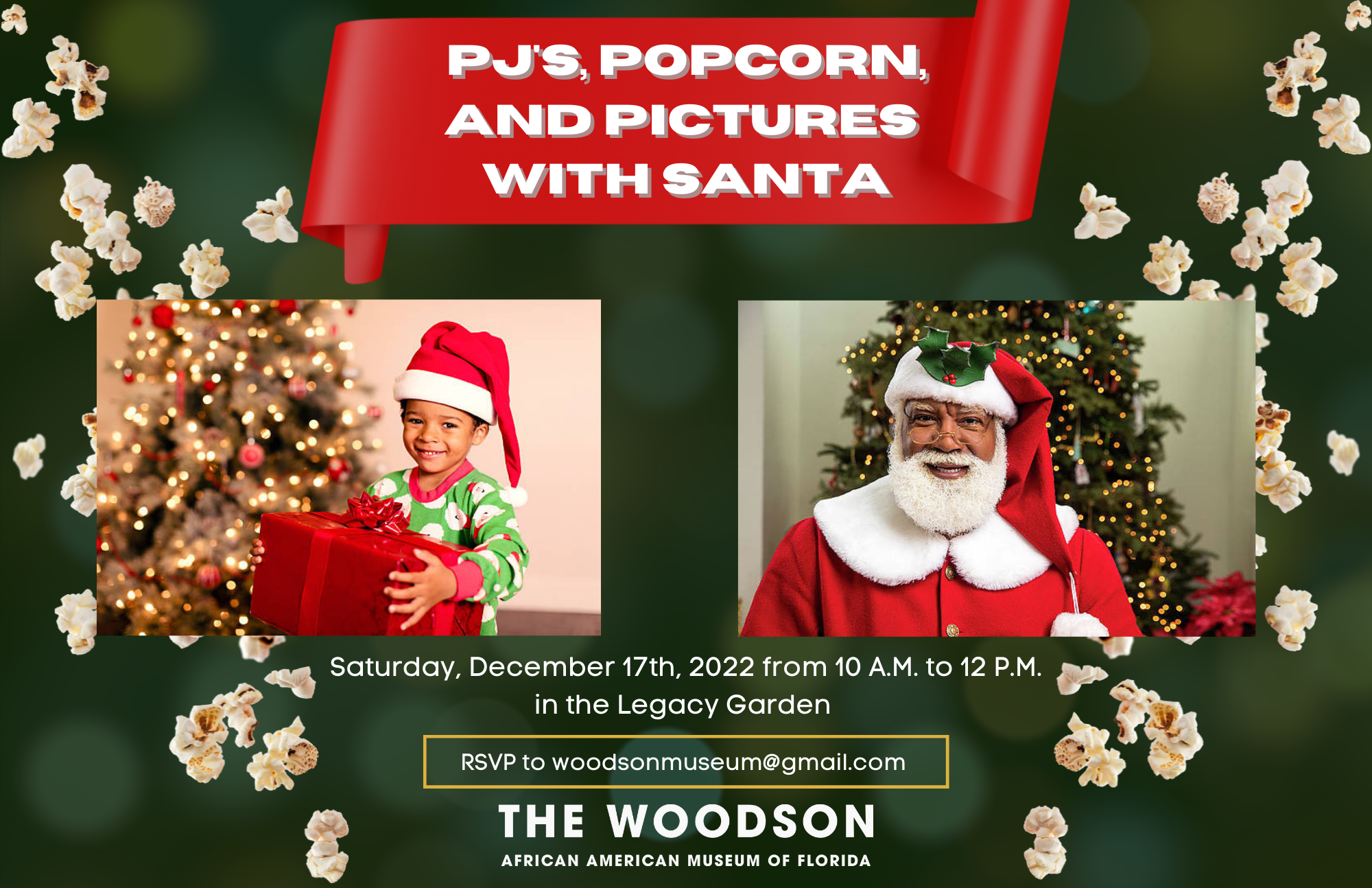 When
December 17th from 10 AM to 12 PM
Where
The Woodson African American Museum of Florida
Admission
Free
What
Bring your children to this festive event to eat popcorn and take pictures with Santa!
To rsvp, email woodsonmuseum@gmail.com
Don't forget to wear your pajamas!
If you signed up for the Toy Drive, you will be accepting your toys this day during your designated time slot.
Call for Artists: 2023 Visions in Black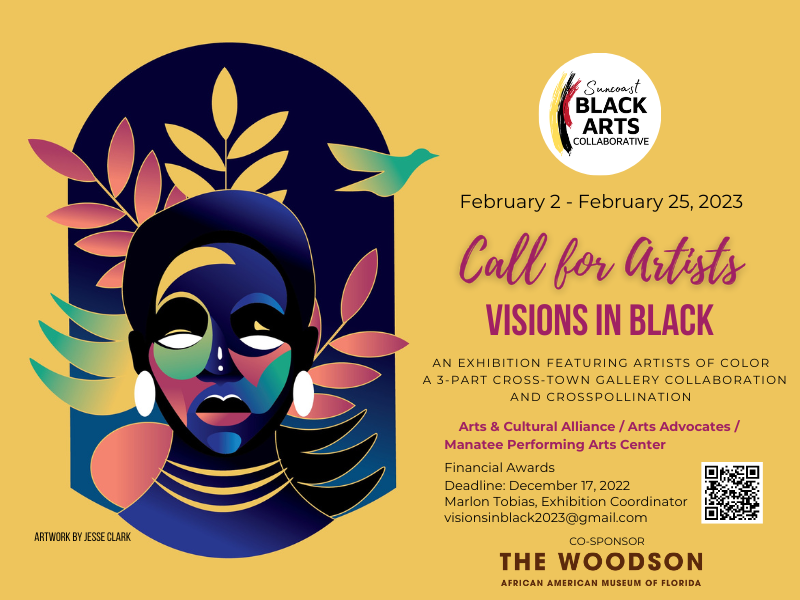 When
December 17th
Where
https://form.jotform.com/222204065806145
Admission
$25, College Students are Waived
What
Visions in Black is a juried art exhibition that showcases artists of African descent who live in Florida. All mediums are celebrated and accepted, and the art will be on display from February 2 – February 25, 2023.
For more information about submissions, please visit the link or email Marlon Tobias, the 2023 Exhibitions Coordinator at  visionsinblack2023@gmail.com.
Classic Black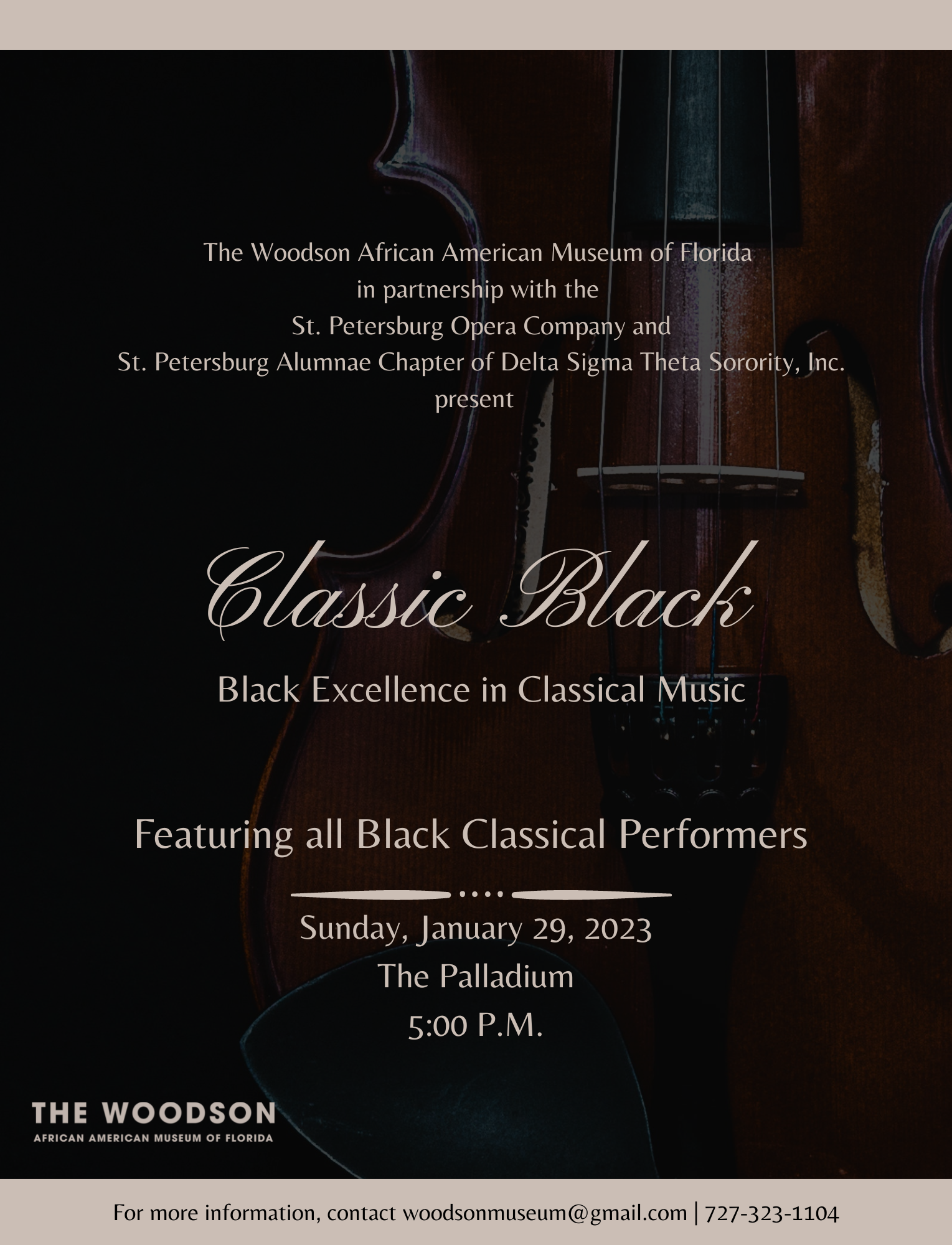 When
January 29th at 5 PM
Where
The Palladium
Admission
$45.00
What
Classic Black will be tributing black excellence in classical music. Information about the performers and tickets will be available soon.
2023 Legends Ball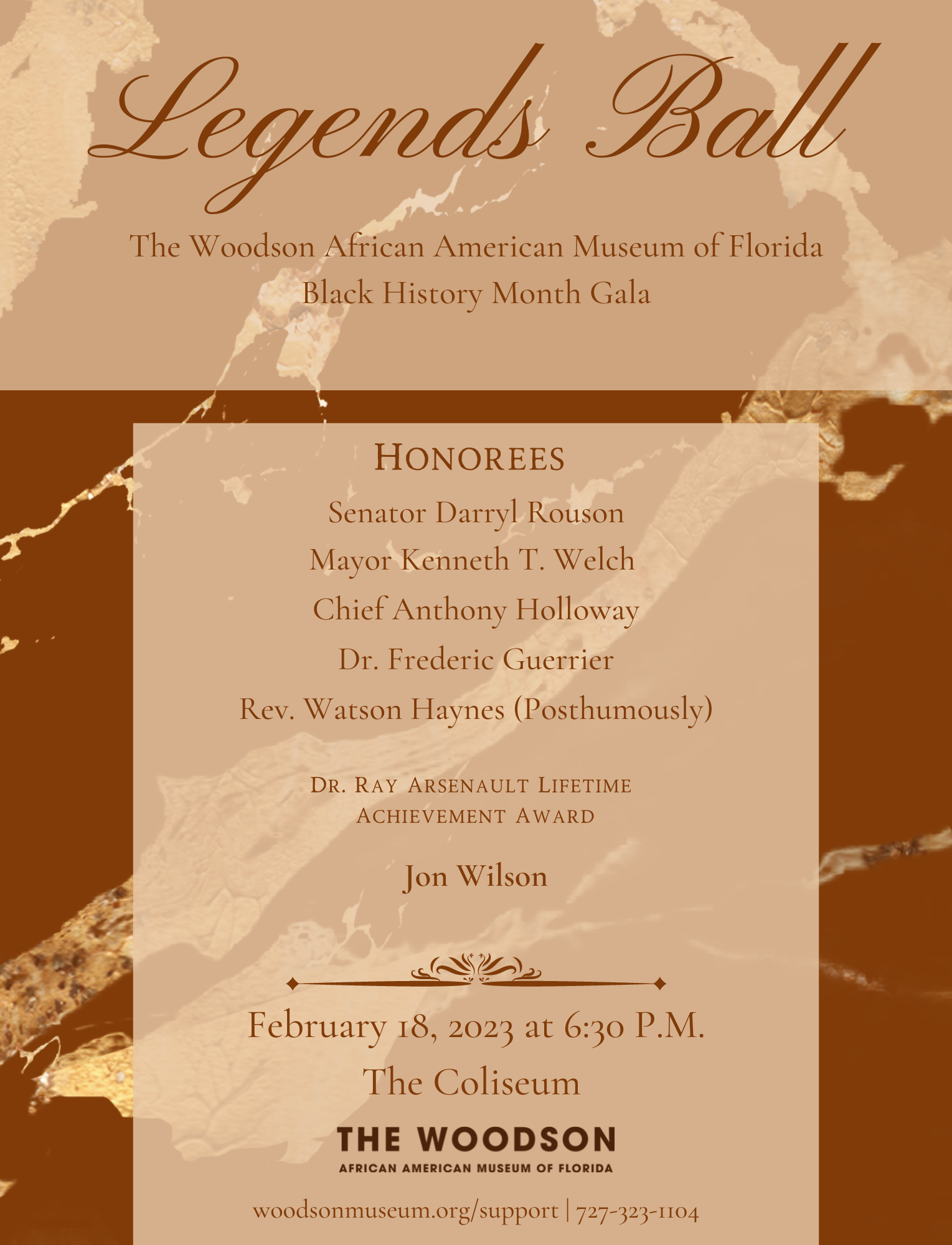 When
February 18 at 6:30 PM
Where
The Coliseum
Admission
Varies
What
The Legends Ball is a celebration of success, commitment, and community – to benefit the wonderful legacy of the Woodson African American Museum of Florida.
For the 2023 Legends Ball, we will be honoring five individuals that made extraordinary strides in our community and beyond as a consummate leader, and contributor to Black History.
The Individuals that are being acknowledged include:
The Honorable Kenneth T. Welch (Mayor)
Chief Anthony Holloway (St. Petersburg P.D.)
Dr. Frederic J. Guerrier (local and international physician)
Reverend Watson L. Haynes II (Posthumously)
Jon Wilson, Journalist (Ray Arsenault Lifetime Achievement Honoree)
If you are interested in sponsoring or purchasing a table, click here